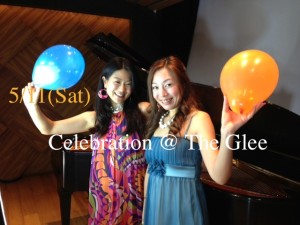 Tomorrow I have a concert with mainly my original songs + collaboration. I'm excited to sing for the first time a newly made song which has the audience singing as well.
Warning, it's very catchy! lol
————-
Sawaka and Honami presents… Celebration!!!
Come Celebrate with the two singers the spring season with its new meetings and new starts a la the Glee-style! 
There will be an original cocktail and food designed by the two of them that is only served that day! 
Come also to listen to their collaboration song! The event will be held at the beautiful live restaurant, The Glee, where they have a great architectural design that enables the same music quality at any seat using a scattered reflection technique (i.e. good quality sound!) 
Date: Saturday, May 11th, 2013
Open: 6:30pm
Start: 7:30pm 2 Stages. 1st Stage Honami, 2nd Stage Sawaka + Collaboration!
Charge: 3500yen (includes one drink) 
Place: The Glee Kagurazaka 
3-4 mins. walk from Iidabashi Station
We'll be waiting for you and Let's all have a fun celebration!!!
The members of my band are a very talented bunch as well!
Sawaka Katalyna(Vo)Eugene Shimoda(G)Kuraaki Hori(P)
Yutaro Hayashi (B)Yusuke Fujiwara(Dr)